Tornado/Windstorm Damage – Residential Insurance Claims Help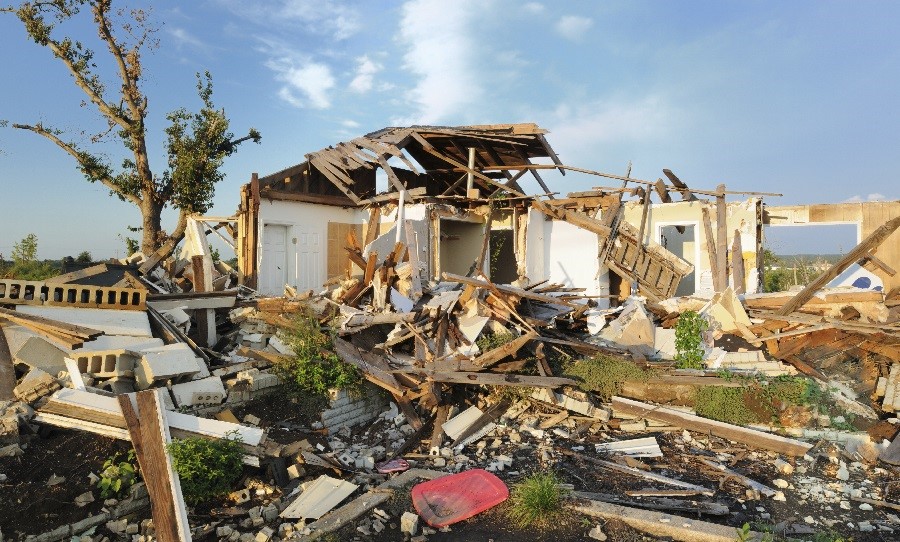 As a homeowner in "Tornado Alley" and especially living in a Midwestern state, you know that any severe windstorm holds the very real possibility of giving rise to tornadoes. Colorado appears on the list of top ten states for tornadoes in an average year (1991-2015). 
Tornado damages can range into the billions of dollars and take entire communities offline for days and weeks at a time. Recovery can take years in the most severe cases. In addition to the structural destruction caused by high winds and flying debris, fire and water damage stemming from broken power, water, and gas lines can cause additional losses to your home. Torn-off roofs and punctured walls, windows, and siding allow severe weather to infiltrate your home's envelope and create even more damages inside.
Insurance policies in many of these states require separate deductibles that apply to damages caused by tornadoes and high wind. Often this represents a percentage of your total insurance coverage amount, typically 1 to 5 percent – which can add up quickly. Knowing how to properly identify and claim all of your damages under your specific policy can help to minimize the impact of this deductible by making sure you don't miss something.
This is where an experienced public adjuster can make all the difference. Our team of public adjusters, building specialists, and content specialists will thoroughly analyze and account for every stick of damage to your home. 
---
Our public adjusters help you get what you're entitled to by:
evaluating your insurance policy to establish the best possible strategy for presenting your claim to the carrier;
valuing, documenting and substantiating every detail;
negotiating on your behalf with your insurance company;
keeping you informed every step of the way; and
ultimately settling the claim for the maximum amount and with less hassle for you.
Public adjusters work exclusively for you – the policyholder – never for the insurance company.
---
Who have we helped?
As soon as we engaged your company, you were able to cut through the bureaucracy and reach the key decision makers. You kept us informed of each twist and turn of your investigation. Within months of your engagement, we had our check in hand. We felt comforted and confident that our situation was given the prompt attention that was needed. I would recommend your services to any in this situation.
Anthony & Barbara Black
Homeowners
Our insurance claims experts have helped thousands of homeowners. We encourage you to look through our references and testimonials and to contact us for recommendation letters. An internal review showed that our clients felt we delivered what we promised and would work with us again—facts we are proud of. We welcome the opportunity to put you in touch with past clients so you can ask them yourself.
We highly recommend that you check references of any public insurance adjuster you are considering hiring. Over 4,500 satisfied clients attest to the fact that we stick by our core principles, the first of which is to always look out for our clients' best interests.
---
Resources
Listen to our podcast on "Debris Removal and Pollution Damage" for tips from our experts:
For additional information, visit:
---
If you're suffering from a residential property damage claim, we can help! Call us at 888.321.5200 or fill out the form below: